SCAR: Carrier of a State (Passive)
Definition: The assertion (s SCAR o) connects a nonmental state s to an object
o which is in this state, or which carries this state without playing an active role
in it.
Examples:
 The plane costs $3 million.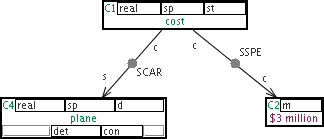 The train to Baltimore was standing at the station for the whole night.